Editor's note: This article was originally published on January 29, 2020. It has since been updated.
Our eyes are one of the most prominent features of our face but due to impaired vision, many of us have to wear glasses that may not bring out their true beauty. But, that doesn't need to be the case. The frame we wear can accentuate our features and make us look great. There is a perfect frame for everyone out there. Knowing your face shape can help you find the right frame/s. Whether you want to accentuate your cheekbones or the shape of your face, the frame you pick can do that for you.
If you are not sure what the shape of your face is, read on:
How do I find my face shape?
There are many options for frames in the market but the right one would highlight your best features. Most people stick to one frame for years because of the cost involved and because they've gotten comfortable with it. But, if you want to change up your look subtly, a new spectacle frame can be a great way.
Oval, square, round, heart, or triangle, your face could be any one of these shapes. You can start off by taking a photo of yourself with your hair tied so your entire face is visible. Trace around your face's frame to see which shape it closely resembles, according to TheTrendspotter. No face would be a perfect square, round, or oval. It is important to keep that in mind as well.
Another method would be to measure your face from brow to brow, cheekbone to cheekbone, and the width of the jawline. Then you can measure the length of your face from forehead to chin to find the proportions. Knowing the proportions would help to find the shape of your face. For instance, if you have the same length and width your face is square or round.
What are the best frame styles for my face shape?
1. Square
A square face is more or less the same in length and width. You are likely to have bold and angular features. There would be clean lines from the forehead to the jaw and the ideal frame would draw attention away from them. You can use color to do that or rounded and thinner frames that are slightly wider on the side. It is ideal to use frames that are opposite in shape from your face. So, go for round or oval-shaped frames, according to Coastal.
2. Round
Similar to a square face, the round one also has the same length and width. However, instead of strong lines and angles, your face would be curved. It would be mostly smooth lines and fuller cheeks and a rounded chin. For a round face, the frame should add some angles to their face. So, a square or rectangle frame would be great. The angles in the frames would add some definition to your face and create balance.
3. Heart
A heart face is broader at the forehead and gradually narrows down to the jaw. If you have a heart-shaped face then you would have high cheekbones. This is a versatile face since all kinds of frames would go with it. You can truly experiment with cat-eye frames or those that are bottom-heavy, oval-shaped frames, light-colored or rimless frames. All of them are likely to complement your face shape.
4. Triangular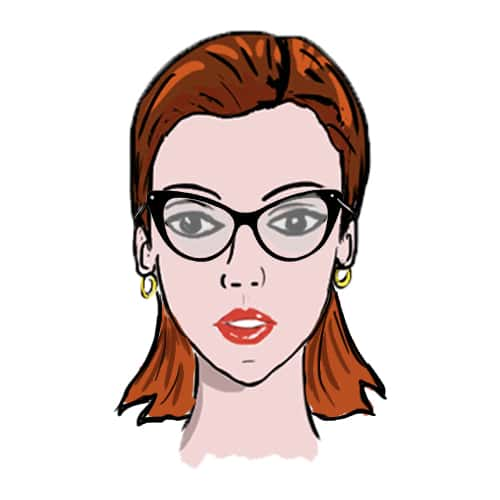 If your face is widest on the bottom and narrowest on top, you have a triangular face. So, a frame that is the opposite of your face shape would be ideal. It can be bold on top and light on the bottom. You can wear a frame that is a mix of round and angular shapes so try the D-frames, aviator, or cat-eyes glasses to highlight your features. If you want to experiment more, then a round frame would be the perfect one for you.
5. Oval
An oval face usually has higher and slightly wider cheekbones. The face narrows slightly on the top. It's a long and rounded face, which is also versatile. You can go crazy with any frame for this face shape because you can pull it off. Try oversized and wide frames, different colors, and textures in your frames. Square, wayfarer, tortoise, and rectangular, all of them are good options, according to eyebuydirect.
What kind of frames suits your face best?
References:
https://www.coastal.com/thelook/glasses-for-face-shape/
https://www.eyebuydirect.com/guides/frames-and-face-shapes
https://www.thetrendspotter.net/haircuts-for-face-shape/
Disclaimer : This article is for your entertainment / infotainment purposes.