Being isolated at home, with or without the rest of the family, for weeks and months can be hard on anyone. So, if you are feeling tired already, that's okay. On some days, all we can do is get by. However, this phase can put pressure on your relationship with your partner. There could be misunderstandings and frustration that don't get communicated in a healthy way. To avoid such challenges that leave deep scars on your relationship, there are a few things you can be aware of and do. Just because we are stuck at home doesn't mean that we let our relationships suffer after all.
Here are seven things to do while at home with your partner that can make your relationship stronger:
1. Ensure you aren't working all the time
Just like we aim for work-life balance during normal times, we should do the same during the isolation as well. Just because people are working from home now, they might feel obligated to work for longer hours. However, we should make clear distinctions between work hours and personal hours. This will also mean finding the time for your children if you have any.
"If you are working at home, there will still be home and life admin to do – set a time for this. It may feel like the house is a tip or needs cleaning, but make an executive decision to do this outside of 'working hours'. Many of us will struggle with working from home as it limits our capacity in different ways, so try not to pile extra home stress on work stress," relationship psychotherapist Kate Moyle tells The Independent.
2. Have separate spaces for the both of you
Making separate spaces for each of you is a great way to spend some me-time, and everyone in the house will need that. "Everyone needs time by themselves, and it can't just be when you use the bathroom," relationship coach Rachel Wright recently told the online therapy service Talkspace. "Take time to be alone, whether that is to just breathe, masturbate, text with a friend, take a nap, read … whatever. The important thing is to take time to be with you, yourself, and just you."
So, whether it's you, your partner, or your children, everyone stuck home will need a space of their own. You can make a schedule if that makes it easier about who gets access to which space when.
3. Be open with your feelings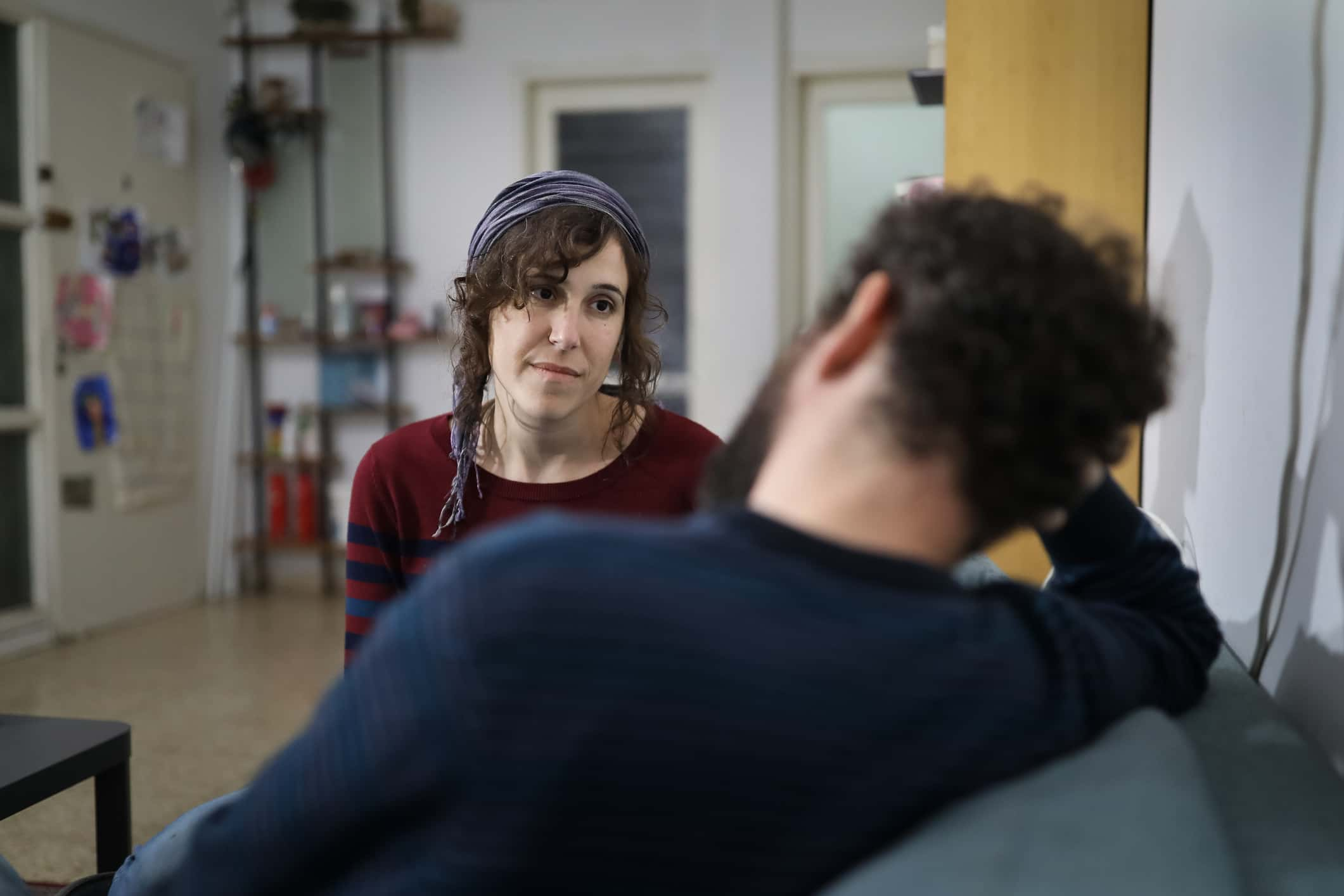 Communication is key. Talking about what you are going through with your partner will have to be a conversation, which means both have to talk and listen. During this time, frustration might run high but you can get through it together if you are honest about your feelings. But, it's important to not blame the other when you do so.
"If you are frustrated or stressed then try to use 'I' statements to communicate how you are feeling. 'I feel' is very different to 'When you x, I x' or 'You make me feel', it's very easy to slip into the blame game when we are stressed and it doesn't help anyone," said Moyle.
4. Dedicate time for being intimate
If both of you are healthy and have no symptoms, then showing physical affection can go a long way in strengthening your relationship. Not just that, it can also boost your mood by releasing oxytocin."Even if you'd prefer to cuddle, skin-on-skin contact releases oxytocin which makes us feel happy and safe," Susan Quilliam, intimate relationships expert and author, tells GoodHouseKeeping. For couples with kids that might mean waiting until the little ones are asleep to give each other undivided time. If you feel that you need to schedule this too, don't hesitate from doing so.
5. Show gratitude towards each other
Most of us love something about our partner, even if they might be driving us up the wall at times. Those things we love about them can help us channel our thoughts towards having a positive attitude towards them. The small gestures and acts of kindness can make us feel gratitude, which is more than just saying "Thank you." "Perhaps they scoured all the local shops to find you some essentials, or they made you a cup of tea in bed," said Quilliam. "Gratitude helps encourage a more positive mindset."
6. Make an effort to look good for each other
While we are staying at home, we might end up staying in sweats all day. It's just what we are comfortable in. But seeing each other in lounge clothes all day can be a dampener on the mood when it's time to get intimate. When we make an effort to look for our partner, we send them the signal that we care. We also let them know that attraction is important. You can even make a fun date out of this. It doesn't mean you pull out your best dress and put on heels. It just means putting a little extra effort into looking good for your partner.
"Get dressed up and have some make-believe fun. Set the table for a romantic dinner for two with candles and some music. Whether you are cooking or ordering take-out, enjoy some special quiet time together," said Ruth Cooper-Dickson, a positive psychology practitioner, to Fox News. You can ask the kids to clear the common spaces for a couple of hours and have that part of the home for yourself for dates.
7. Make sure to divide the chores
If you have been feeling frustrated over how the chores fall on you more than your partner, there is a chance that that feeling could amplify during isolation. So, to ensure that your relationship goes smoothly, you both can decide who will pick up which chore and when. For example, if your partner has taken up cleaning but does it only once in two weeks, it might set you on edge. So, have an honest conversation and set expectations for both of you. You can also make this a shared family activity by involving your children if they are old enough for it.
References:
https://www.independent.co.uk/life-style/love-sex/coronavirus-tips-self-isolation-family-partner-argument-a9411851.html
https://www.talkspace.com/blog/coronavirus-relationship-quarantine-advice/?
https://www.goodhousekeeping.com/uk/lifestyle/a31695774/relationship-advice-coronavirus/
https://www.foxnews.com/lifestyle/coronavirus-lockdown-healthy-relationship-self-isolation