Sometimes, fairytales do come true. Kate Middleton and Prince William had a whirlwind romance that was quite the talk of the town until the younger Prince Harry started dating Meghan Markle. While Prince William and Kate Middleton are responsible and settled parents now, their love story had its fair share of ups and downs. They are college sweethearts, who have been together for close to 15 years now!
If you are curious about how they met and how they continue to lean on each other, here is the complete timeline of their relationship:
2001: Their first meeting
They were first introduced at St. Andrews University in Scotland in 2001. They reportedly started off as friends before sparks flew. The couple kept their relationship out of the public eye until 2004, when they were photographed together on a ski trip. They were about to enter their final year at the university when it became apparent that they were in a relationship, according to Cheatsheet.
But what about their first meeting? Apparently, Katherine caught the young prince's attention when she stepped onstage for a charity event. But apparently, that wasn't the first time they met. According to Cheatsheet, a royal biographer says that Kate met Little William for the first time when she was 9 years old, at a school hockey game.
When they were introduced later at university, Kate went "bright red" and "scuttled off," according to the interview she gave after her engagement.
2006: Kate's first public outing with the prince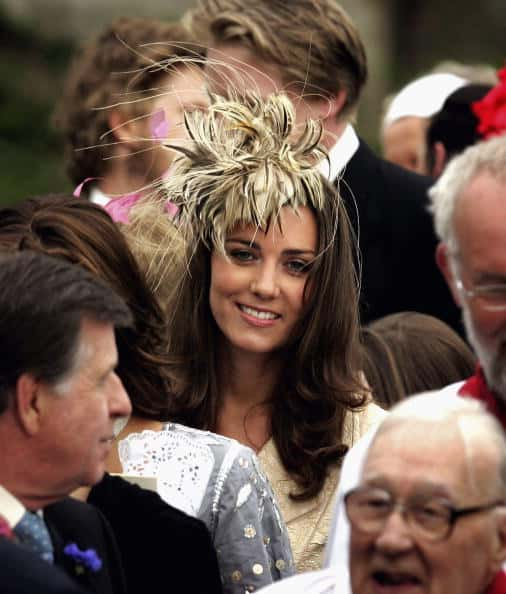 They were seen kissing at a polo match, and they were quite unbothered about photographers. They were also seen at Camilla's daughter, Laura Parker Bowles,' wedding. Prince Harry had also accompanied them during the event. This had sparked speculation that the couple was serious about each other, according to Elle. After this public outing, she was instantly thrust into the spotlight, which took her time to get used to as she came from a non-royal background.
2007: Their breakup
The couple broke up briefly in 2007, and Middleton went on a vacation with her friends to Ireland. Meanwhile, William was asked awkward questions about the status of their relationship in official interviews. During a 2010 interview after they were engaged, his now Royal wife believes that the time they took off from their relationship made them stronger. "I think I at the time wasn't very happy about it, but actually it made me a stronger person…You find out things about yourself that maybe you hadn't realized. Or I think you can get quite consumed by a relationship when you're younger. I really valued that time for me as well although I didn't think it at the time, looking back on it," she said, according to Cheatsheet.
2010: Prince William's proposal
Prince William proposed to Kate while on a trip to Kenya together. He gave her his mother, Princess Diana's sapphire engagement ring. "We had a little private time away together with some friends, and I just decided it was the right time really," William later said in their engagement interview. "We'd been talking about marriage for a while, so it wasn't a massively big surprise, but I took her up somewhere nice in Kenya."
2011: Their magical wedding
The couple married at Westminster Abbey in a fairytale wedding. British singer Ellie Goulding performed at their reception, according to Elle. The bride's wedding bouquet honored her husband since it had Sweet William flowers in it. Kate became the Duchess of Cambridge, the Countess of Strathearn, and Lady Carrickfergus, after their wedding, according to Elle.
2011: Their First Royal Tour
For the first tour, the newlyweds went to the United States and Canada, where they attended a BAFTA event in LA and had some fun times, including dragon boating and an appearance at a rodeo, according to Grazia UK.
2013: They become Royal parents
Kate Middleton gave birth to their first child, Prince George. She had been diagnosed with hyperemesis gravidarum or severe morning sickness during her pregnancy. The first-time parents had stepped out for post-baby photos on the steps of the St Mary's Hospital, London. The couple looked similar to the photo of Prince William's parents when they brought the newborn outside for a photo.
2015: Birth of the first female heir
In the fall of 2014, the Palace announced that she was pregnant with their second child before her 12th week as her morning sickness had become too difficult to keep a secret. On May 2, 2015, Kate gave birth to their second child and only daughter, Princess Charlotte. She is the fourth in line to the throne after Prince Charles, Prince William, and Prince George. She is the first princess in the last two decades and the highest-ranking female in the line of succession.
2018: Prince Louise completes the family
The couple welcomed their third child, Prince Louis, on April 23, 2018. Kate suffered from morning sickness again, like the two previous pregnancies. He was born a few weeks before Prince Harry and Meghan Markle's wedding, which was on May 19, 2018. Prince Louis is the fifth in line for the throne.
2019: Their Joint Campaign
Prince William, Kate Middleton, and Prince Harry, together launched the Heads Together campaign, which spreads awareness about mental health and attempts to challenge stigma around it. "Harry, Katherine and I really felt this was such an important area that throughout all of our charitable work whether it was veterans, homelessness, addiction, most of it seemed to stem back to mental health awareness," said Prince William, according to Sun UK.
Speaking of his wife, Prince William told, "No one is going to try to fill my mother's shoes, what she did was fantastic. It's about making your own future and your own destiny and Kate will do a very good job of that," as reported by the Telegraph.
References:
https://www.youtube.com/watch?v=NK3ODM5S0Lg
https://www.cheatsheet.com/entertainment/the-adorable-way-kate-middleton-and-prince-william-are-preparing-prince-george-to-be-king.html/
https://www.ibtimes.com/kate-middletons-awkward-moment-during-first-meeting-prince-william-revisited-2709541
https://www.elle.com/culture/celebrities/g22984701/kate-middleton-prince-william-relationship-timeline/?slide=9
https://www.elle.com/culture/celebrities/a26067109/prince-william-kate-middleton-relationship-timeline/
https://www.thesun.co.uk/fabulous/3222778/heads-together-charity-kate-middleton-prince-william-harry-world-mental-health-day-work-campaign/
https://graziadaily.co.uk/celebrity/news/prince-william-kate-middleton-relationship-timeline/
https://www.telegraph.co.uk/news/uknews/royal-wedding/8469775/Royal-wedding-the-lessons-and-comforts-that-can-be-gleaned-from-previous-marriages.html