Ever since Harry and Meghan announced they would be stepping back as senior royals, debates have been sparking over whether the second son of Princess Diana would still be called a prince or not.
However, it seems that the Duke of Sussex has taken things into his own hands. During his visit to Edinburgh to talk about Travalyst, his sustainable travel initiative, which happens to be amongst the last of his official royal engagements, Harry made a surprising statement, according to Telegraph UK. To the delegates of the conference, he requested them to "just call me Harry". The event's host Ayesha Hazarika, editor of the Londoner Diary, told the crowd, "He's made it clear we are all just to call him Harry. So ladies and gentlemen, please give a big, warm, Scottish welcome to Harry," according to News AU.
This comment of his comes on the heels of the news that Harry and Meghan would not be using their Sussex Royal brand name after they quit the British Royal Firm. This move was made so that they could pursue financial independence and live in North America. Though Harry will still be sixth-in-line for the throne and retain the His Royal Highness status, he will not be able to use it. According to a report in CNN, the couple would no longer have an office in Buckingham Palace after March 31. They will retain other titles like Earl and Countess of Dumbarton and the Baron and Baroness of Kilkeel.
A source told the Daily Mail, according to News AU, "(The brand) shouldn't even be an issue in the first place and it's not like they want to be in the business of selling T-shirts and pencils. Meghan said she's done with the drama and has no room in her life for naysayers, and the same goes for Harry. Meghan said the global projects they are working on speak for themselves and they chose that name to protect the royal name, not profit off of it. She said regardless of the name, Harry and Archie have royal blood and no-one can take that away. And that as a family, they will always be considered royalty."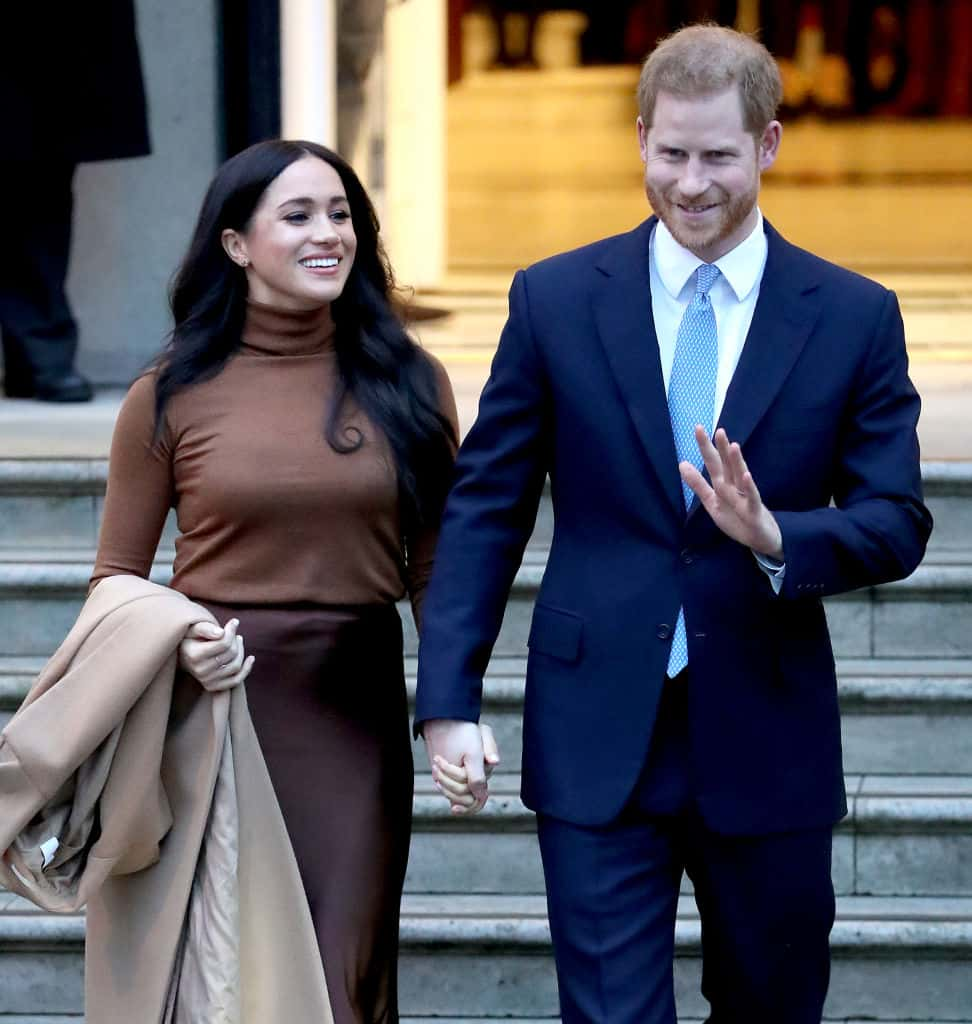 Though this turbulent time might have put the couple under stress, Harry himself seemed quite content as he conversed with guests attending the event. He appeared comfortable as he shook hands and greeted numerous people before taking the stage to promote Travalyst and its scoring system.
Angie Brown, a journalist from BBC Scotland, said, "He had been spotted arriving in Waverley train station on Tuesday wearing a baseball cap and jeans and carrying his own bag.
There were no fans waiting outside the Edinburgh International Conference Centre on Wednesday, where he addressed the Travalyst event. Down in the basement where the conference was being held I saw him on the far side of the room greeting a few delegates at his table with warm hugs and kisses. He sat casually in an open necked shirt and after making his speech he returned to his seat and listened intently to the other guests on stage. On this occasion, the prince was simply a face in the audience, another delegate in the crowd of tourism industry stakeholders."
References:
https://www.telegraph.co.uk/royal-family/2020/02/26/call-harry-duke-sussex-tells-public-one-last-royal-engagements/
https://www.news.com.au/entertainment/celebrity-life/royals/prince-harry-has-returned-to-the-uk
https://www.bbc.com/news/uk-scotland-edinburgh-east-fife-51645676