Since the Duke and Duchess of Sussex, Harry and Meghan Markle, announced that they are stepping back from their position as senior members of the royal family there has been a lot of uproar in the media over their decision. However, as history reveals, they are not the first couple to make a choice like this. Edward VIII, later Prince Edward, Duke of Windsor, was King of the United Kingdom and the Dominions of the British Empire, and Emperor of India, from January 20, 1936, until his abdication on December 11 of that year. He left the throne since he wanted to marry Wallis Warfield Simpson, a divorced American woman with no kids. At that point in history, he had met a roadblock in his family and the Church of England, of which he was the head, to the marriage.
While Prince Harry's wedding to Meghan Markle, also an American divorced woman, did not meet any hiccups, the constant scrutiny she has gone through forced the prince to take a similarly difficult step.
1. They lost their military titles
Both men were passionate about their military careers. Edward had trained for the Royal Navy and fought during World War I which began in 1914. He had wanted to prove himself by going to the frontlines but was refused so he could be kept safe. Prince Harry also loved his military career. He had started training as an Officer Cadet at The Royal Military Academy Sandhurst, according to the royal family's website. The latter had actually spent 10 years in the army and served in two tours in Afghanistan and ultimately received the rank of Captain. He too was interested to be on the front lines, according to Insider.
2. They left the royal family for love
Both of them married American women who were divorced, and while the former King was refused by the Church of England, Harry did not have to go through that. "I have found it impossible to carry the heavy burden of responsibility and to discharge my duties as King as I would wish to do without the help and support of the woman I love," Edward VIII said after his abdication, according to Britannica.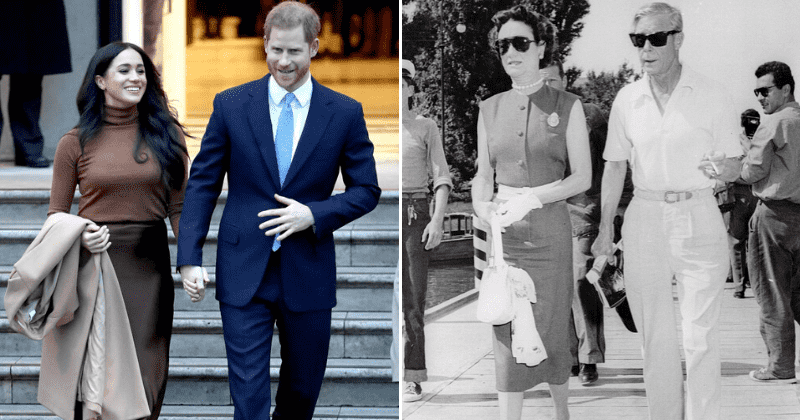 At a recent event in January 2020, Prince Harry broke his silence about the recent events and said, "I also know you've come to know me well enough over all these years to trust that the woman I chose as my wife upholds the same values as I do. And she does, and she's the same woman I fell in love with. We both do everything we can to fly the flag and carry out our roles for this country with pride. Once Meghan and I were married, we were excited, we were hopeful, and we were here to serve. For those reasons, it brings me great sadness that it has come to this."
Both men were passionate in all that they did in life and they couldn't ignore their feelings for the "stiff British upper lip" attitude.
3. They were hugely popular with the public
Both of them were extremely popular with the public and their popularity became their hurdle when they married their wives. The public and the media turned on them. "Edward VIII had been a king of great popularity. The abdication that caused a worldwide sensation visibly distressed his subjects," the Times' Robert Alden said, according to the Insider. Meanwhile, even until 2019, Prince Harry was only behind the Queen in terms of popularity. He had topped one poll in 2018 leaving the Queen and his brother, William, behind. In 2019, he fell behind the Queen while Prince William came in third. His words during his emotional tell-all speech reflect just how much the people loved him. "I have grown up feeling support from so many of you, and I watched as you welcomed Meghan with open arms as you saw me find the love and happiness that I had hoped for all my life. Finally, the second son of Diana got hitched, hurray!"
References:
https://www.royal.uk/prince-harrys-military-career
https://www.insider.com/prince-harry-meghan-markle-king-edward-viii-wallis-simpson-2020-1#prince-harry-was-likewise-proud-of-his-military-career-and-much-like-his-great-granduncle-was-outspoken-about-his-desire-to-serve-on-the-front-lines-6
https://www.britannica.com/biography/Edward-VIII
https://www.itv.com/news/2020-01-20/prince-harry-speech-in-full-sentebale-charity-dinner-sadness-leaving-royal-family/