On February 2, 2020, fans of American football were buzzing with excitement for the biggest Americal professional sporting event — the Superbowl. But perhaps what made the event even more of a blockbuster was the half-time performance pulled off by two powerhouses of talent — Shakira and Jennifer Lopez. And for the former, it was certainly a special moment as she was not just performing, but also celebrating her 43rd birthday. On that stage, these two women proved that age is absolutely insignificant when you're a woman who owns her innate confidence and strength.
With Shakira, 43, and Jennifer Lopez, 50, taking over the crowd, they seemed to have endless energy. They created an electric atmosphere as they danced to their various super hit songs as they were joined by fellow Latin artists, Bad Bunny and J Balvin, according to Time.
Shakira kicked off the half-time show with performances of her biggest hits, including She Wolf, Whenever Wherever and Hips Don't Lie. Showcasing her famous belly-dancing skills in a glamorous red outfit, the multitalented artist even played the guitar. She went crowd-surfing through the mosh pit as those present screamed in excitement. She also performed her Latin hit song, Chantaje with the guest artist, Bad Bunny.
Once her set was over, Lopez took over and managed to raise the already-high standards of the show when she started off with her classic song Jenny from the Block. The elation of the crowd was palpable and truly infectious. But the highlight came when the artist changed into a sparkling bodysuit and pole-danced while singing Waiting for Tonight. This particular skill of hers was honed to excellence due to her role in the film, Hustlers. She also belted out her songs, Love Don't Cost a Thing and On the Floor.
However, the show certainly hadn't reached its peak yet. After her last song, she shared the stage with her daughter, Emme as they crooned to Let's Get Loud and Born in the USA, making it a heart-warming moment as mother and daughter bonded.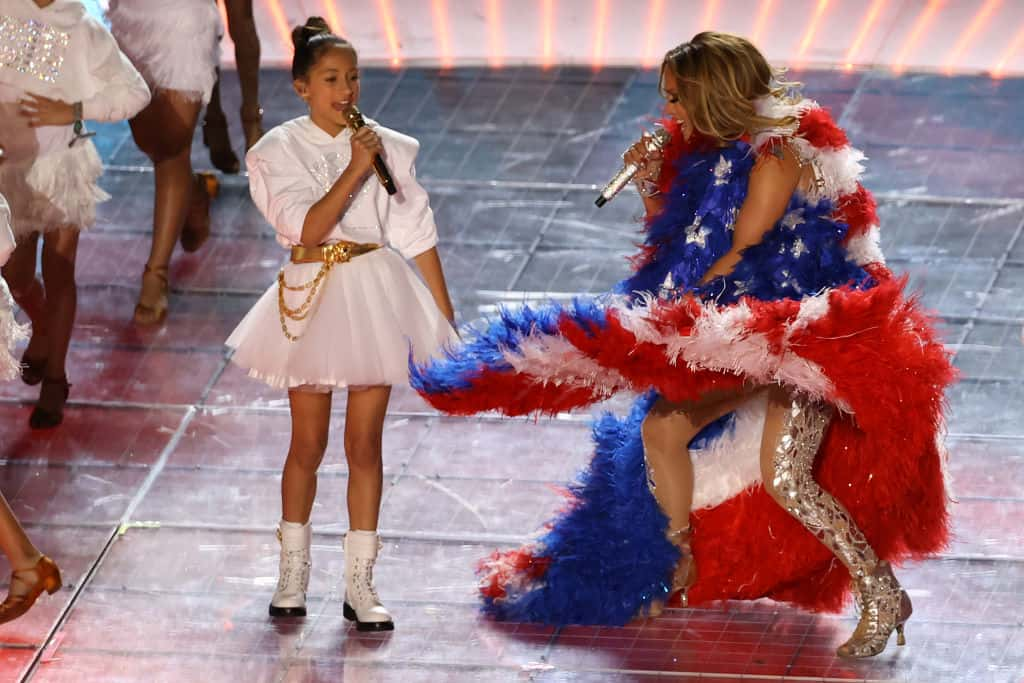 Right after that performance, the two brilliant artists joined together to sing Waka Waka, Shakira's hit song that went viral during the 2010 World Cup. Watching the two together was truly a beautiful moment as they closed out their set with stunning synchronized Latin shines, a move that has taken the internet by storm.
While you might think that it's possible for them to look that good and be that confident because they can afford to keep a strict regimen, it's important to understand that to achieve this, you require dedication and will power, no matter who you are. They have worked hard to reach where they are today. You don't need to follow their regimen or work out the way they do to feel good about yourself. You deserve to be happy and confident in your own skin but in order to do that, you need to take good care of yourself.
Allow yourself to do the things that make you happy, put yourself first, get a good night's sleep, eat the right things, be around the people you love and remind yourself of the things that make you beautiful and special. Give yourself a break every now and then, say no to the things that make you uncomfortable, and most of all, believe in yourself. It might take time, but at the end of it all, you'll start to see the smiles that make you glow and the confidence you gain in yourself just makes you more gorgeous. You have more strength in you than you might realize. So take the chance to have it come out and show what you're made of. You deserve it.
References:
https://time.com/5774180/super-bowl-2020-halftime-show-recap/
https://www.vulture.com/2020/02/super-bowl-2020-halftime-show-review-shakira-jlo-dominate.html